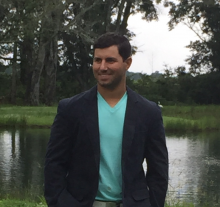 Keefe Duhon is owner of Concrete Revolution, LLC. Keefe is from New Iberia, LA, where he and his family live and operate Concrete Revolution, LLC. Keefe's passion for his business started in early 2008, where he saw an opportunity to be creative, offer quality services to customers and start a revolution when it comes to plain concrete.

Keefe's philosophy is a bit different from other concrete contractors. Keefe believes that the floors you walk on should be art; art that is specific to his client's personality and art that is truly one-of-a-kind and which cannot be easily replicated. Keefe provides more than stained concrete; he gives his clients decorative concrete. This is an art that Keefe has perfected in a short time, making him an artist of concrete; changing concrete forever.

Keefe is a member of The Greater Iberia Chamber of Commerce and Iberia ON TAP. Keefe believes in community and being involved in the community in which you live.